Dedicated to Henry Beston's literary classic, The Outermost House, and the spirit of life on the Great Outer Beach of Cape Cod

DLWA aims to protect 'Chimney Farm'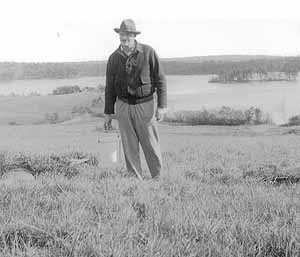 Henry Beston at his farm in Nobleboro, ME on Damariscotta Lake. (Photo courtesy Wheelwright Museum of the American Indian, Santa Fe, NM)
The Damariscotta Lake Watershed Association is making an effort to preserve "Chimney Farm," the farm house where authors Henry Beston and Elizabeth Coatsworth made their home on Damariscotta Lake in Nobleboro, Maine.
Since their deaths, their daughter Kate Barnes, Maine's first Poet Laureate, has owned Chimney Farm. The farm consists of over 70 acres of forest and agricultural land, the original Beston house, barn and outbuildings, and over 2000 feet of prime frontage on Damariscotta Lake.
DLWA is delighted that they intend to acquire a Conservation Easement on a portion of the farm from Ms. Barnes. The DLWA easement will include 9 acres of agricultural land and more than 650 feet of lakefront. Conservation Easements to protect other sections of the property in the future are included in the agreement.
DLWA must raise an additional $100,000 to complete the terms of the agreement. To make a contribution, send to DLWA, PO Box 3, Jefferson, ME 04348. General information on DLWA can be found at www.dlwa.org.
The Henry Beston Society presented a lecture as a fundraiser for DLWA's efforts at Skidompha Library in Damariscotta on Saturday, July 31. Beston Society Executive Director Don Wilding, author of the book Henry Beston's Cape Cod, and board director Jon March were on hand.