Dedicated to Henry Beston's literary classic and the
spirit of life on the Great Outer Beach of Cape Cod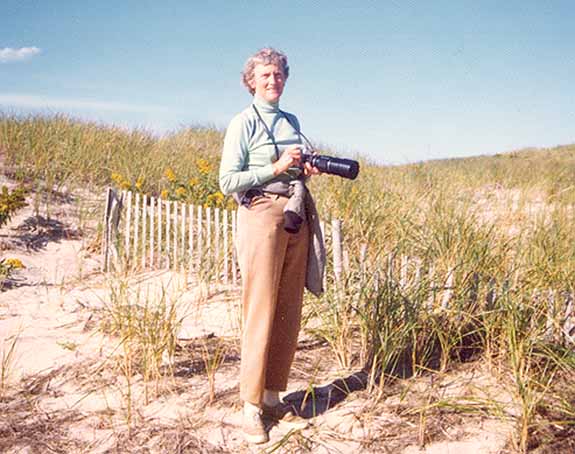 Nan Turner Waldron in one of her favorite places -- the dunes of Eastham on Cape Cod. Mrs. Waldron passed away at her home in Sharon, Mass. on Nov. 8 at the age of 78.
Nan Turner Waldron is
gone, but 'the mystery and wonder of it all remains'
BY DON WILDING (Nov. 11, 2000)
About a month ago, I paid a visit to Nan Turner Waldron, a Sharon resident who had become a good friend of mine over the last year or so.

Nan was not well. She had been battling cancer for the last few years, and now she had received the news that there was nothing that could be done about it.

This revelation startled me, as she had received a good prognosis only a month earlier. Throughout my visit with her, I found myself numb from the news. But as my visit was ending and she accompanied me to the door, she looked at me reassuredly, and smiled.

"I've accepted it, Don," she said. "There's nothing I can do about it. I'll be 79 years old in January, and I've had a wonderful life. It's OK."

Nan paused as she stood in the doorway and I on her porch, still dumbfounded, taking it all it in. She smiled again and nodded. "It's OK."

Her wonderful life came to a conclusion on Wednesday, Nov. 8.
Although I could only imagine what she was going through, I knew that she had been fighting so hard, for so long. This woman, who had walked so many miles of the outer beach, who had climbed all 3,165 feet of Mount Monadnock in New Hampshire on Thanksgiving Day four years ago, could not overcome this obstacle.

Anna Frances Turner Waldron was a woman who was close to nature. Forty years ago, she and her husband Ted began staying at a small house located on the dunes of Eastham's Coast Guard Beach. The house was known as the "Fo'castle," and was the setting for Henry Beston's literary classic The Outermost House.

Nan, a native of Malden and a 1943 graduate of Wheaton College in Norton, had never heard of Beston's book, but being a birder, conservationist and nature photographer who would eventually be honored by the Massachusetts Audubon Society, the world of Nauset was a perfect setting for her. What followed was a journey that led her to discover an ocean of information about Beston and his famous house -- and a place that would become her "chrysalis" -- her "spiritual cocoon."

From 1961 to 1978, Nan stayed at the Outermost House for a series of weeks that amounted to 13 months, which was as much time as Beston put in there while writing his "Year of Life on the Great Beach of Cape Cod." During that time, she would write at the same desk that Beston did. With camera bag hanging from her shoulder, she would hike the same footsteps that the Beston did -- often in less than desirable weather for most beachcombers. She would proudly speak of how she tried to duplicate the six-mile hike of the old Coast Guard patrols -- in a sleet storm -- and failed.

She was there so often that many people who walked Coast Guard Beach were under the impression that she lived at the house and took care of it for the Massachusetts Audubon Society, the organization to which Beston donated it in 1959.

When the great blizzard of 1978 hit the Cape, the house was swallowed up by the incoming sea and, after floating about in Nauset Marsh, was deposited in pieces on nearby Nauset Beach in Orleans. Nan drove to the Cape two days later, and, after taking in what had happened, recovered one of the house's windows (completely intact) and kept it in her attic. A friend, sensing in advance that the house was doomed, had removed the bird feeder from the house, and gave it to her.

She took her experiences to the lecturing circuit, and eventually, to print -- in the pages of her book, Journey to Outermost House, which she self-published through her own venture, Butterfly and Wheel Publishing. She described her published material as "a blending of the natural world and a creative philosophy of life."

Since 1991, Journey to Outermost House has gone through three printings, and a special hard-bound anniversary edition was planned for next year. In 1998, North Woods Walkabout: A Maine Odyssey followed.

"I believe that being close to the natural environment inspires a quest, perhaps inherent in Man, to understand human nature," she wrote in Journey to Outermost House. "Beston's sensitive understanding of a man's need to recapture his relationship with the total environment is a timeless message, something which every human can seek no matter where he or she roams. The world of the Outermost House is really a microcosm, an 'anywhere world,' which is different things to different people."

There were few people who knew more about Beston and The Outermost House than Nan Waldron. She had corresponded with Beston in his final years (he died in 1968, four years after his famous house was dedicated as a National Literary landmark by the U.S. Department of the Interior), and interviewed Beston's wife, Elizabeth Coatsworth, and Maurice "Jake" Day, who illustrated several of Beston's earlier books and went on to draw "Bambi" for Walt Disney.

I found out just how well informed she was on this subject when I approached her about a year ago, asking for some information and perhaps a photo or two for a Web site on "The Outermost House" that I had put together. She could talk for hours on the subject, and we often did. Eventually, I took on the responsibility of producing a publication on The Outermost House for Eastham's 350th Anniversary celebration, an effort that she backed with child-like enthusiasm.

However, cancer had also been taking its toll on Nan. When we first met, she had been recovering from a long bout with the disease and the radiation and chemotherapy treatments that went with it. Another one of these battles confronted her earlier this year, but she seemed to have overcome it and was on the road to recovery in late August. Plans to go away with her husband were on tap, and thoughts of writing and promoting her books were crossing her mind.

Later in September, she had found out that the disease was back, and there was nothing that could be done about it.

I had no doubt that one of Beston's most famous passages from The Outermost House was clear in her mind: "Creation is here and now. So near is man to the creative pageant, so much a part is he of the endless and incredible experiment, that any glimpse he may have will be but the revelation of a moment, a solitary note heard in a symphony thundering through time."

It is sad that Nan Waldron is no longer with us. However, I find it comforting to read the last words of Journey to Outermost House, which she concludes with a poem that reflects her feelings after the house, her "spiritual cocoon," was washed away, and the duneland of Nauset was changed forever:

"How can I say this place is gone?
When I still can hear the weathervane protest the squally wind
And see in detail all the scenes beyond the panes of glass,
Can walk again beside the waving grasses where the sparrow sings
And watch the flaming sunrise creep across the morning sky?
In my mind's eye remains the mystery and the wonder of it all
While still the journey lies ahead ..."

* * * * * *
Donations may be made to the Old Colony Hospice, 14 Page Terrace, Stoughton, MA 02071, or First Congregational Church, 29 North Main St., Sharon, MA 02067. A memorial service was held at First Congregational Church in Sharon on Saturday, Nov. 18.