They're at it again.

Those millions upon billions of grains of sand, that is, upon Coast Guard Beach in Eastham. Every hour ... every day ... every week ... every month ... and every year -- it just goes through another phase of Nauset Renewal.

The shifting sands of Nauset have been moving about since the glaciers formed Cape Cod thousands of years ago. Both Henry Beston (The Outermost House) and Nan Turner Waldron (Journey to Outermost House) both made note of how much the landscape of this barrier beach changes.

Traditionally, the sea takes sand away during the winter months and then gives it back during the summer. During the fall, as the ocean turns back to a shade of cold gray, the ocean begins the cycle all over again.

Yet, this fall Nauset Renewal has taken a different look. A November stroll down the spit, which took a beating in storms last winter, has shown considerably more real estate, even as the duneland ran out. The low tides have revealed an almost moon-like surface, stretching wide into an area once filled by Nauset Marsh water and further south toward the other side of the marsh. In fact, warmer waters would make for an easy swim to the other side.

The sand is still somewhat damp here, but provides solid footing, even with the nooks and craters that have been carved out. At this southern most point, a look out to the east shows the other side of the inlet's opening, where an occasional four-wheel drive vehicle makes it way up from Nauset Beach in Orleans.

Heading back to the end of the Eastham side of the spit, the sea has done some more wondrous work. A natural Olympic-sized swimming pool, originally a deep cove area carved into the marsh side of the spit, has filled in with sand all around it, but its depths are at least 10 feet deep in its middle. A strong northwest wind blows the fine particles of sand toward the pool's edge.

For now, the project is complete. However, another phase of Nauset Renewal will begin -- just like it always has ... and always will.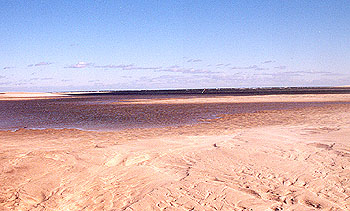 Walking out into the new wide out area. Straight ahead is the inlet opening.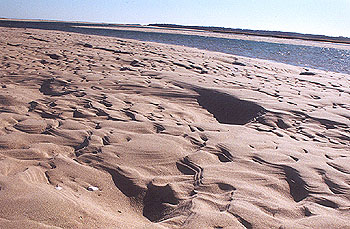 The moon-like surface along the opening to Naust Marsh.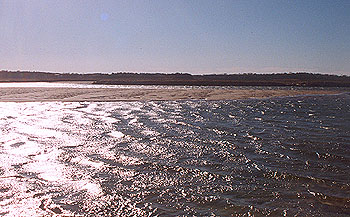 Just a short swim over to the other side.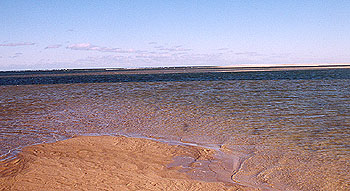 Standing at the edge of the new expanse of sand, looking toward the ocean.
Looking across the vast stretches of open sand toward the northeast and smaller dunes of Nauset Spit.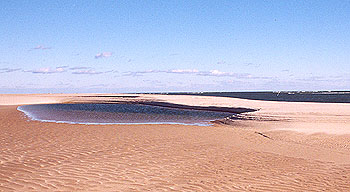 The new natural Olympic-sized swimming pool near the opening of Nauset Marsh.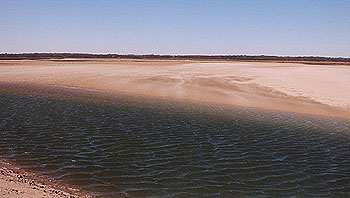 A strong wind blows the sand across the pool.
The southern end of Nauset Spit in Eastham
following a March 2001 winter storm.
(Photos by Don Wilding)