Dedicated to Henry Beston's literary classic and the
spirit of life on the Great Outer Beach of Cape Cod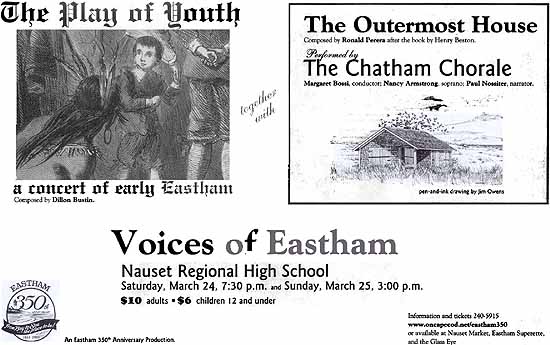 The first half of the program will feature Dillon Bustin in "The Play of Youth: A Chronicle of Eastham." Mr. Bustin, an American Folklorist, author, filmaker, playwright, and composer will be an artist-in-residence at the Lighthouse Charter School and the Nauset Regional Middle School at this time. His residency will culminate this evening in a children's musical that will present several episodes in the history of Eastham from the point of view of children and adolescents in the community.

While the narrative thread to the evening will be a visit by John Howard Payne to his grandparents in Eastham in about 1804, the singers will represent young Eastham characters from various moments in the past.

The second half of the program will present the Chatham Chorale performing "The Outermost House," conducted by Margaret Bossi and narrated by Paul Nossiter, at the Nauset Regional High School on March 24 and 25. "The Outermost House" is a choral piece with orchestra and readings set to certain passages of Henry Beston's classic book about a year on the beach at Eastham. The Chatham Chorale commissioned the piece from composer Ronald Perera for its 1991-92 season.
---