Dedicated to Henry Beston's literary classic and the
spirit of life on the Great Outer Beach of Cape Cod

Remembering the
Blizzard of '78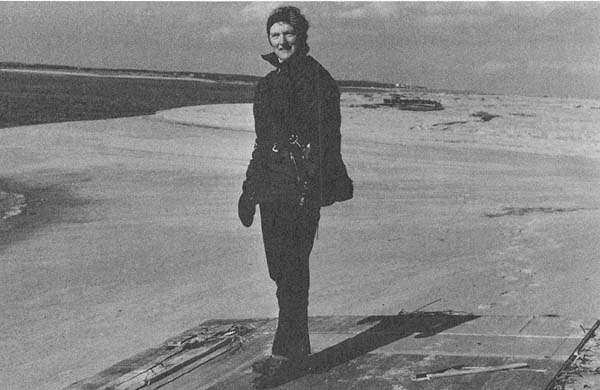 Nan Turner Waldron, author of "Journey to Outermost House," stands on the floor of Henry
Beston's Eastham bungalow following the Blizzard of 1978. Waldron probably stayed in the
house more than anyone, including Beston himself. (Photo courtesy Butterfly and Wheel Publishing)
By Don Wilding

Anyone living in New England will never forget the famous (or some say infamous) "Blizzard of 1978," particularly those who have read Henry Beston's literary classic "The Outermost House."

Up to 50 inches of snow fell on some parts of Massachusetts and Rhode Island, but it was the tremendous surf generated by the storm and the abnormal lunar high tides that changed Nauset Spit forever on Feb. 6-7, 1978. The dunes and Beston's little "Fo'castle" were obliterated by the incoming waves.

"Strongly built and sturdy to the end, it quit its foundation posts and floated into the (Nauset) marsh," wrote Mass. Audubon Society Director Wallace Bailey in a letter to Society members on Feb. 9, 1978. "People watching through the fog from Fort Hill could see it, gable-deep but upright but upright in the churning inland sea."

The storm made life stand still for almost three weeks in some parts of the northeast. After dumping almost a foot and a half of snow on the New York City area, the storm moved up the coast and stalled off the coast of Massachusetts, intensifying as it went. Bands of heavy snow swept across southeastern portions of the Bay State, with over four feet reported in Stoughton, Mass. and Woonsocket, R.I. Motorists were stranded in their vehicles -- Nan Turner Waldron, author of "Journey to Outermost House," was almost one of them before finally reaching home several hours later.

Waldron, who had stayed in Beston's house more than anyone else (including Beston himself), detailed her experiences in the book. While it was a sad occasion, it was also one that was destined to happen.

"I found it an acceptable sorrow, change compatible with living," Waldron acknowledged.

"I don't think Henry would have minded; I think he would have thought it a very suitable end," Mrs. Beston wrote in a note to Bailey.

"That's the way he would have wanted it to go," adds longtime Cape Cod National Seashore park ranger Walter Morey, who drove Beston to the House's dedication ceremony in 1964. "Not by a fire or anything else like that -- but by the ocean."

Still, the loss hit hard for all those concerned.

"It was hard to visualize the damage that day but it didn't hit home to
me personally until I made the drive down to Coast Guard beach about three days after the storm," says Bruce Richter, who was stationed in Boston with the Coast Guard in 1978 and now maintains the Eastham Chamber of Commerce Web site. "Looking at the devastation I really felt that I had lost a friend and I realized that my life would never really quite be the same."
---