Dedicated to Henry Beston's literary classic, The Outermost House, and the spirit of life on the Great Outer Beach of Cape Cod

On its Solitary Dune -- Now only $3 plus p&h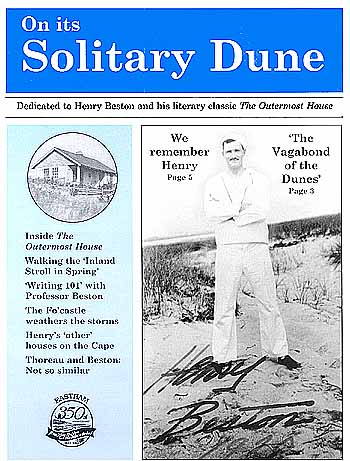 "Veteran newsman Don Wilding lives
in North Attleboro, but his heart and
writing pad are firmly entrenched in
the dunes of the Outer Cape. The
publication serves as a great primer
to the The Outermost House itself ..."

-- The Cape Cod Voice
(Orleans, Mass.)
---
"He's the sports guy for The Foxboro Reporter, and in his spare time he has devoted himself to such worthy things as this Henry Beston publication, which is a marvelous thing to read.
We encourage you to try and get a hold of a copy. You'll be delighted."

-- Bob Seay, WOMR-FM
(Provincetown, Mass.)
On its Solitary Dune, the 32-page dedication to Henry Beston and his literary classic, The Outermost House, for the Eastham 350th Anniversary celebration, is available for purchase at a reduced rate of $3.00, plus $1.50 for postage and handling.
Checks can be made payable to Eastham 350th Anniversary and mailed to George Abbott, 20 Mary Chase Road, Eastham, MA 02642, or call George at (508) 255-4956.
On its Solitary Dune was written, edited and composed by Don Wilding, publisher of The Outermost Web Site.
Stories for the magazine include a look at Beston and Thoreau, how the "Fo'castle" was moved over the years, recollections from folks who actually knew Beston, revisiting his "Inland Stroll in Spring," going "Inside the Outermost House," and rare photos.
Wilding has dedicated On its Solitary Dune to the memory of the late Nan Turner Waldron, author of the book Journey to Outermost House and a major inspiration behind this effort.
Questions about On its Solitary Dune can be sent by e-mail to outermost@lycos.com